To avoid poor contacts, rust, sparks, power leakage and all sorts of problems,
HorseGuard recommends the use of this type of connections only.
The Fence charger must be connected to a long ground rod and to a high-tension cable.

To bring the power to the fence
never...set the connection directly onto the tape! Use a tensioner #36W

Before you can make electrical connections, you must first know what type wire to use for the installation, In an Electric Fence we recommend a high tension cable : #28M which can carry 12000 volts.
High tension cable #28V is the same but GREEN.
| | | | | | | | | |
| --- | --- | --- | --- | --- | --- | --- | --- | --- |
| 36W | Tensioner f wood post | | for wood post | | 7.79 | | | |
| | | | | | | | | |
| --- | --- | --- | --- | --- | --- | --- | --- | --- |
| 59L | 5ft Charger Connector Wire | | fence to charger | | 6.99 | | | |
| | | | | | | | | |
| --- | --- | --- | --- | --- | --- | --- | --- | --- |
| 59H | Inter connector wire | | top to bottom strand | | 8.99 | | | |
| | | | | | | | | |
| --- | --- | --- | --- | --- | --- | --- | --- | --- |
| 28M | Brown H.T. Cable /ft | | Brown | | 0.51 | | | |
| | | | | | | | | |
| --- | --- | --- | --- | --- | --- | --- | --- | --- |
| 59GM | Connector for 28M | | from buckle to wire | | 3.89 | | | |
| | | | | | | | | |
| --- | --- | --- | --- | --- | --- | --- | --- | --- |
| CRIMP59 | New Crimper tool | | | | 12.99 | | | |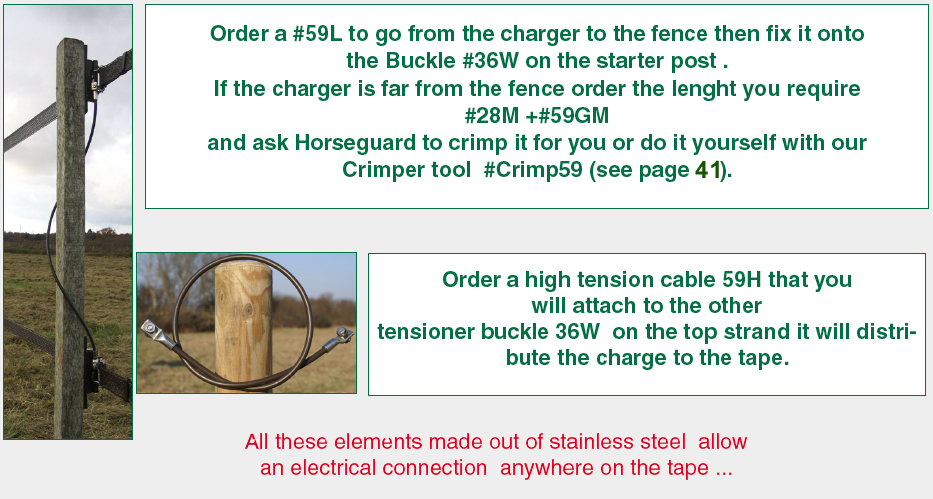 | | | | | | | | | |
| --- | --- | --- | --- | --- | --- | --- | --- | --- |
| 36W | Tensioner f wood post | | for wood post | | 7.79 | | | |
| | | | | | | | | |
| --- | --- | --- | --- | --- | --- | --- | --- | --- |
| 11 | Spring Gate handle | | one per strand | | 13.69 | | | |
| | | | | | | | | |
| --- | --- | --- | --- | --- | --- | --- | --- | --- |
| 24 | Splicer buckle | | one/spool | | 2.99 | | | |
| | | | | | | | | |
| --- | --- | --- | --- | --- | --- | --- | --- | --- |
| 52 | Golf Ball Fence switch | | off/on | | 23.99 | | | |