Build your own round Pen
for $699.00 only

in one afternoon !

We have constructed a round pen. We thought the horses would be too intimidated to work but not true. They work wonderfully with it on or off. They just don't run into the fence, or try to escape the work anymore. It has broadened their education, so to speak, by alleviating an escape route, they seem to be more at ease, which really shocked us! Thank you for an extremely well made, affordable product.

David & Sandy C. Ohio


The Round Pen comes in Brown. It will be 5 ft tall and 60 ft diameter. Once you have driven the 20 T-Posts (not included), look page 49 to find how to set the
HorseGuard
sleeves and insulators on the sleeves.
If you want a bigger or a smaller round pen, just call extension 4 and give us the measurements, we wíll calculate everything for you.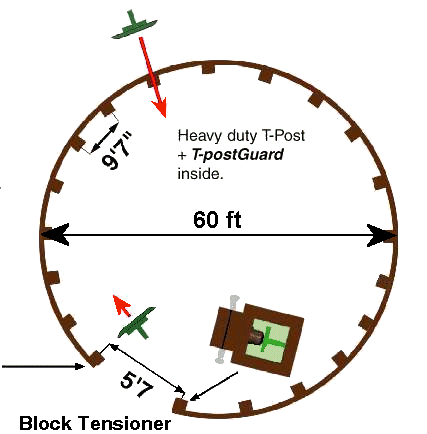 Drive your T-post with the spade facing the round pen center.
The tape should be attached to the outside of the posts for better tensioning.
The tape is installed at one foot interval
The round pen is usually 60 feet in diameter.
At the gate, drive the two gate posts with the spade facing the tension.
10 tensioners + 10 block tensioners. 5 on each side of the gate.
Other colors upon request

Working enclosures are typically designed with strands of tapes installed at one foot intervals, but more may be added according to personal preference.
First a horse is trained to respect the fencing. Later the fence can be switched off, as the increased number of tapes provides a visual barrier that is sufficient.
The horse can then remain relaxed in the enclosure and focus on the handler.
| | | | | | | | | |
| --- | --- | --- | --- | --- | --- | --- | --- | --- |
| RP300br | Round Pen Kit Brown | | Brown | | 699.00 | | | |